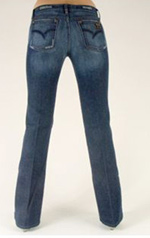 Here I am ... starting a brand new idea of writing some articles in English as a way to both improve my level and provide my foreign friends with some reading out of these inner thoughts of mine.
A couple of days ago I was downtown in the search for some new clothes that fill my wardrobe when I realized how much fashion is affecting us no matter we want it or not. For some years I've been using the same kind of jeans i.e: boot-cut, normal waist, regular fit. (I have to acknowledge that I wasn't aware of the many differences between them since the day I decided to take a deeper look at the subject). There wasn't any problems to buy them anywhere. This year, though, they are out of fashion and have been pushed away by the baggy hiphop-like jeans or the super-low waist, stretch fit jeans. I mean, I went from shop to shop until I got tired ... no way ... the only "solution" I got came from a shop assistant who encouraged me to buy a pair of Levi's 544 which are girls' jeans and stressed out that many other guys did the same. I discarded the idea and went out wondering what a hip you guys should have so you fit well in that kind of jeans. I must admit that price help me discarding as it was close to 72 €. At the end I found some interesting jeans at Lefties (Zara's low-cost brand) ... they weren't my style but thet were quite cheap (16.90 €).
So here I am again on a ... regular fit, straight leg, normal waist, zip fly .... pair of jeans. Still far away from the new trends, still having my own style.